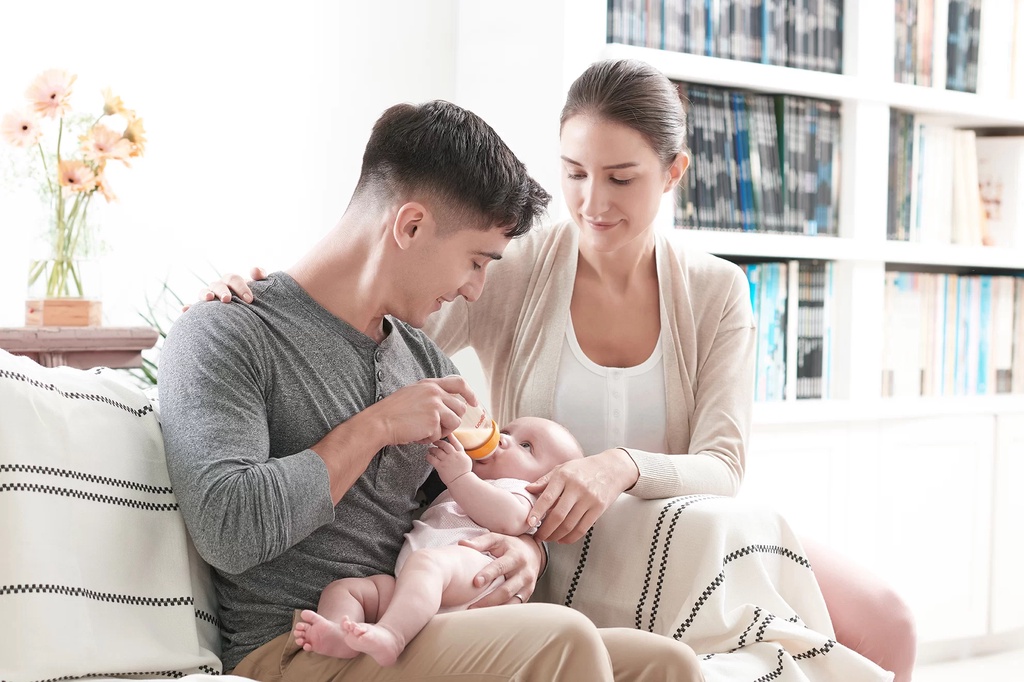 Backed by 60 years of research on a baby's natural suckling motion, our SofTouch™ nursing bottles are the best and closest you can get to moms, tested and approved by more than 1 million babies worldwide!
Moms have 99 other problems but nipple confusion ain't one of them! The real simulation of the latching allows combining breast and bottle feeding to be possible. Anti-colic as our specialized technology of Air Ventilation System (AVS™) reduces intake of gas, a potential cause of colic. Made with PPSU (Polyphenylsulfone) material, this range has a higher heat resistance of 180°C, is safe for babies, and is worry-free for parents! Cost-saving when you buy our twin packs!
For 0+ months. 160ml comes with SS size nipple specially designed for newborn babies. The opening of the nipple is round-cut which allows milk to flow out consistently and gradually. Newborns have yet to develop any jaw movement, thus the nipple is designed to support their sucking ability at this age.
For 3+ months. Comes with M size nipple that has a Y-cut opening on the nipple. Milk flows out when there's pressure on the nipple, encouraging and babies to suck to get the milk out. Babies at this age have developed some jaw muscle movements and is able to suckle to get milk out.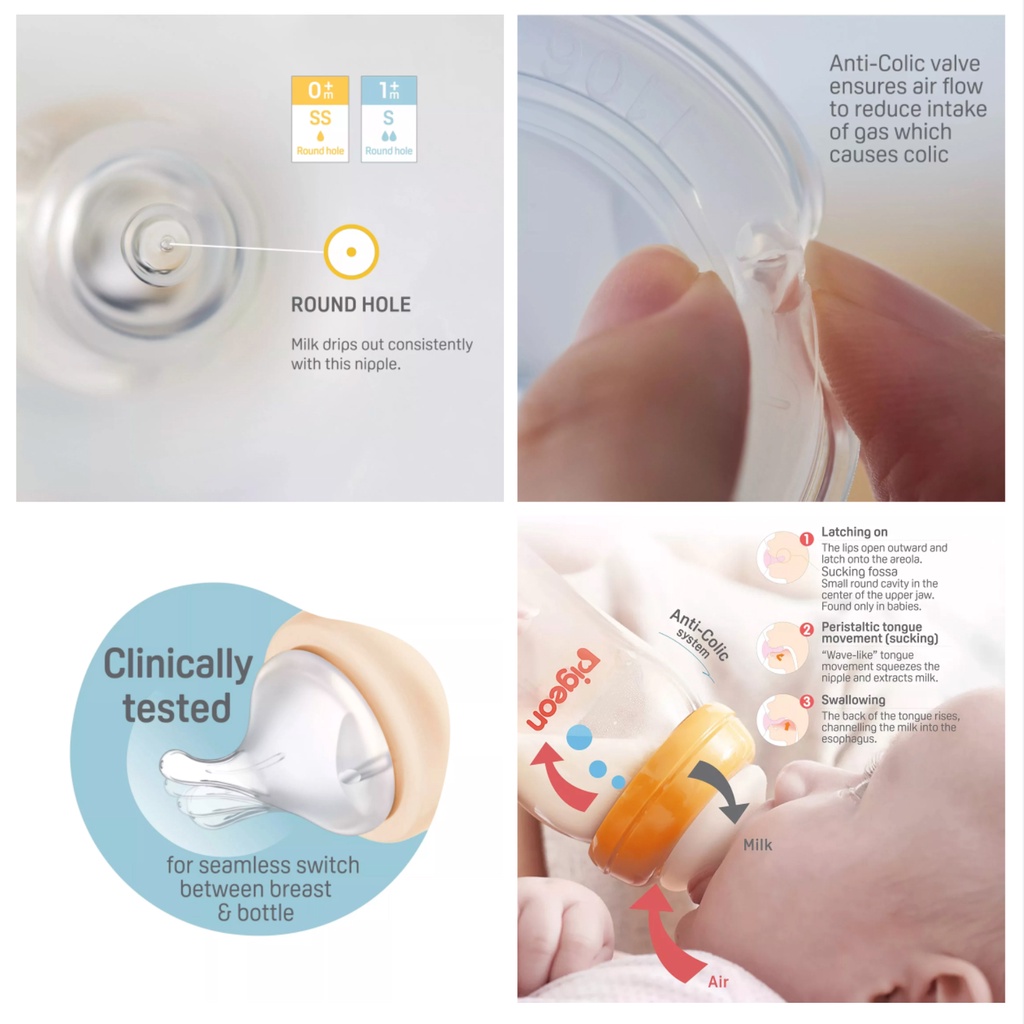 How to clean the products:
Cleaning Immediately after use. Rinse in warm water and wash using a Pigeon Liquid Cleanser. Use a nylon brush to wash glass bottles.
How to sterilize the product:
Sterilization Method: Boiling, Steam, Chemical
Our PPSU Nursing Bottles (both Wide-Neck and Slim-Neck) can be sterilized using the Rapid Steam Sterilizer.
Be sure to sterilize before every use.
Boiling/Steaming sterilization: Thoroughly wash the nipple, bottle, cap, and hood, and place in water. Bring the water to a boil. Sterilize for 5 minutes after the water comes to a boil.
Chemical sterilization and microwave sterilization are possible. Use sterilizing products specifically for baby bottles and nipples. Follow the instructions in the user's manual for these products. With chemical sterilization, the printing on the bottle may fade.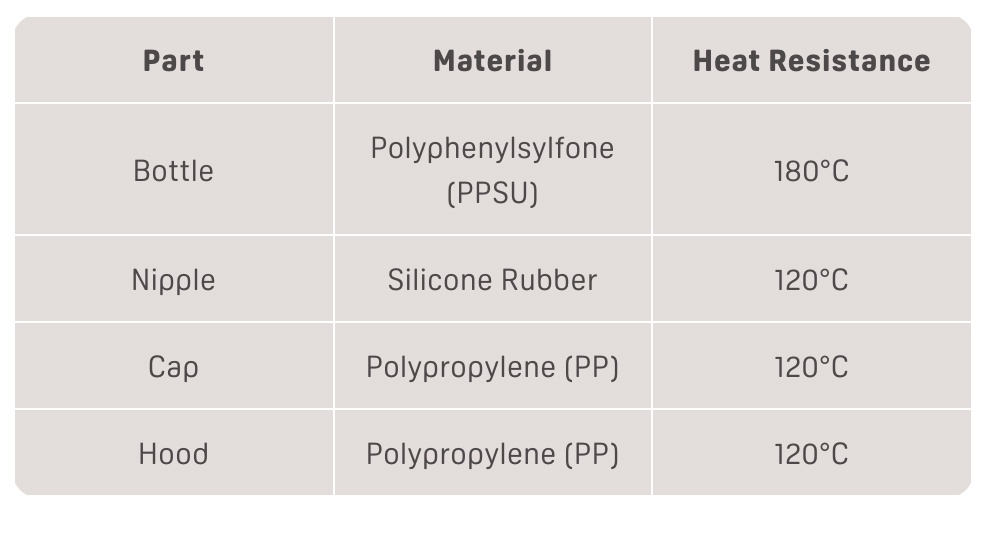 Made with PPSU (Polyphenylsulfone) material, this range has a higher heat resistance of 180°C, is safe for babies, and is worry-free for parents! Cost-saving when you buy our twin packs!



• Ideal for a breastfed baby

• Anti-Colic System

• Medical Grade Plastic bottle

• Clinically tested for seamless switch between breast and bottle

• Shaped to help minimize swallowed air

• Advanced venting system to prevent gas

• SofTouch™ Peristaltic PLUS Nipple – 100% silicone, super soft and flexible to allow for natural and smooth tongue movement

• Bottle is made from Polyphenylsulfone (PPSU) material with high heat resistance and excellent durability

• BPA Free

• PPSU is widely used in manufacturing medical and food-contact products. The color of the bottle is the natural color of this material.

• Our SofTouch™ Peristaltic PLUS Nipples are designed based on extensive research on the 3 natural movements that a baby does while feeding.

- Latching on: The lips open outward and latch on the areola. A newborn baby has a sucking fossa which is a small round cavity in the center of the upper jaw.

- Peristaltic tongue movement (sucking): 'Wave-like' tongue movement squeezes the nipple and extracts milk

- Swallowing: The back of the tongue rises, channeling the milk into the esophagus.
Model: SofTouch™ Wide Neck PPSU Nursing Bottle Twin Pack (160ml/240ml)
Suitable For: 0+ / 3+ Months
Materials/Ingredients:
Weight: 0.2 kg
Dimension: -
Warranty: No Warranty
Testing Certificate:
We only ships within Singapore currently.

Online Purchases Standard Delivery
Orders are delivered between 9am-10pm, Monday to Saturday, not including public holidays.

Shipping Fee
(Delivery Time: 3-5 Days Average)
Order <= $60 the shipping fees will be $4.90
Order > $60 the shipping fees will be FREE*

The tracking number is provided in your shipping notification email. You may track your delivery via Relevant Courier tracking portal.
You May Also Like
Product title
Vendor
$19.99 SGD | $24.99 SGD
Product title
Vendor
$19.99 SGD | $24.99 SGD
Product title
Vendor
$19.99 SGD | $24.99 SGD
Product title
Vendor
$19.99 SGD | $24.99 SGD